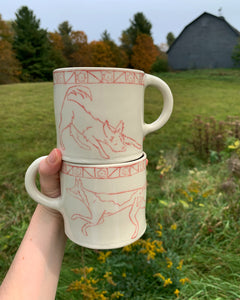 Je te suis
« Je te suis » est un ensemble de vaisselle qui est destiné à être collectionné au fil des années.
Composé de 8 tasses, 8 tasses à thé et 8 assiettes, cette collection est fabriquée pour être appréciée dans son ensemble autant qu'en pièces détachées. À la manière de la sérigraphie, chaque pièce est marquée d'un discret numéro notant son édition (dans ce cas, un numéro 1).
« I will follow you » is a dinnerware set made to be collected over the years. Composed of 8 mugs, 8 teacups and 8 plates, this collection is designed to be enjoyed as a whole as well as individual pieces. Like in serigraphy works of art, every piece is marked with a number indicating its edition (in this case, a number 1)
Magasiner la collection
**International delivery // Livraison internationale**
Dear customers from the other side of the world,
It was my new year resolution to add countries to the shipping list (quite a daunting task for an artistic brain). I am starting slowly by adding France, Switzerland, the United Kingdom, Germany, Denmark, Portugal, Spain, Sweden and Japan to the already accessible Canada and United-States. The shipping rates to these far away lands are higher than the north American ones, but such things are unfortunately dictated by the international post services. Hopefully, one day, I will have my own fleet of magic carrier pigeons that you can pay with pies. If by mistake (because even fairies make mistakes) I realise I charged you to much for your package, I will send you an email and reimburse you the difference. Thank you, always, for supporting and jumping into the unknown with me.
-The Onion Fairy
___________________
Chers clients du bout du monde,
C'était ma résolution d'ajouter de nouveaux pays à ma liste de livraison (une tâche colossale pour mon cerveau artistique). Je commence donc tranquillement en ajoutant la France, la Suisse, le Royaume-Uni, l'Allemagne, le Danemark, le Portugal, l'Espagne, la Suède et le Japon aux deux pays déjà accessibles; le Canada et les États-Unis. Les prix de livraisons élevés sont malheureusement dictés par la poste internationale. Un jour, peut-être aurais-je une flotte de pigeons voyageurs pouvant êtres payés en pointes de tarte, mais hélas! ce n'est pas pour tout de suite. Si je réalise que j'ai commis une erreur et que je vous ai surchargé pour la livraison, je vous enverrai un courriel et rembourserai la différence. Merci de me supporter continuellement et de faire le grand saut vers l'inconnu avec moi.
-La Fée des Oignons